Description
The Beard Straightening Comb is the first ever men's heated straightening brush, designed exclusively to smooth out facial hair for an effortlessly soft finish. 
Combining the functionality of a hairbrush with the power of heat, the Beard Straightening Comb restores your beard to masculine, groomed perfection in just 3 minutes. Join thousands of others discovering the Beard Straightening Comb and find out how it's taken their beard game to the next level.
Beard Straightening Comb is the ultimate advantage in a world of average beards! Using a low profile design and negative ion technology, a thick out of control beard can be transformed into a soft, smooth, and enviable look.
Beard Straightening Comb ensures no damage to beard. This Comb uses negative ion technology to prevent heat damage. A healthy and polished beard look can be achieved with daily usage with Beard Straightening Comb. Moreover, its heat barrier design will prevent heat damage to your face.
MCH Technology & Anti-scald-This quick heated brush beard straightening comb have unique MCH heating technology always maintains a consistent level of heat to deliver maximum straightening power with every pass. For your safety, the beard straightening brush has ceramic teeth with unique rubber that will prevent you against burn.
Best Beard Straightener
-This beard straightener/ electric hot comb can be used for styling either your beard hair or the hair on top of your head in 30 seconds , No matter curly, thin, thick, flat, straight, long, or short, the electric beard comb will works perfect for your needs. Really best gift for men on Christmas Day, Thanksgiving Day, Birthday, Anniversary Day, Father's Day, Valentine's Day, etc.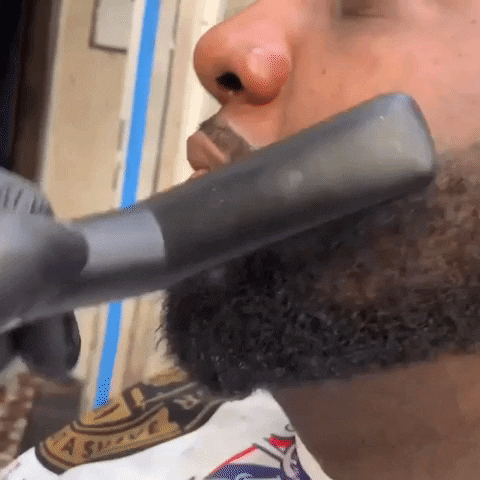 Make your beard extraordinary and distinctive now.
Designed for all beard and hair types.
Burn and damage free with long lasting results.
World's most advanced, purpose-built beard and hair straightener for men.
Grip even short and coarse beard hair.
Gets close to your roots without burning your skin.
Delivers consistent heat with less damage to hair.
Eight integrated heat settings to style to your preference.
Features a 360 degree rotating cord.
Perfect for home or professional use.
Keep your beard looking perfect all day long.
Anti-Scald Comb Teeth Construction
The shorter ceramic heating teeth are surrounded by the higher rubber comb teeth, which protect you from scald or hair/beard burning.
Metal Ceramic Heater Technology
The comb teeth are made of ceramic porcelain technology ,which helps to heat up quickly and smooth the hair ,It can better protect the beard and hair without damage.

Two Temperature Modes
High mode for THICK HAIR and low mode for THIN HAIR ,and can be preheated much more sooner.
Unique PTC heating technology always maintains a consistent level of heat to deliver maximum straightening power with every pass.
HOW TO USE:
Make sure both hair and beard are completely dry before beginning use.
Simply plug in and turn the deluxe beard straightener on.
Wait three minutes for it to reach the optimal temperature of 120 C.
Brush through the hair and beard, going from roots to ends until the desired smoothness is achieved. Multiple passes through the same strands will not damage the hair.
When finished, switch the deluxe beard straightener off and unplug it, waiting for it cool down before clearing away.
PACKAGE INCLUDES:
1 x Beard & Hair Straighteners Comb
SPECIFICATIONS
Temperature Controller: Digital
Function: Thermostatically Operated
Min. temperature: 180 °C
Applicable hair: Dry & wet
Max. temperature: 230°C
Power Cord Tail Assembly Mode: 360° Rotatable
Dimensions Of Heating Plate: 60x15mm
Thermostat Adjustment Segments: Others
Optimal styling time: 1-2 min.
Certification: ce
Item Type: Iron
Power Source: electric
Voltage: 100-240v (Dual voltage)
Diameter of thermal conductor: 16-20 mm
Hair Straightener Combs: Hair Curling Curler Show Cap Tool
Men Quick Beard Straightener Styler Comb: Electric Hair Styler
men hair beard straightener: hair iron straightener
men accessories: beard accessories
Feature: titanium plate hair straightening irons
User: Salon and household both
brush hair straightener: hair brush straightener
straightening comb: straightening hair brush
Me encanta!!! La probé enseguida y me gustó el efecto, pero la verdad la compré para la barba de mi pareja y va súper bien y rápido. Compraré otros dos para mi suegra y mi cuñada, será un buen regalo. Gracias por el envío tan rápido y por los cupones ;)))))
Professional Beard Straightener Heated Electric Brush For Men
A tester produit bien reçu
Professional Beard Straightener Heated Electric Brush For Men
excelente tiempo de entrega
Payment & Security
Your payment information is processed securely. We do not store credit card details nor have access to your credit card information.