Description
Our IPL Laser Hair Removal Handset is designed to make life easier.
Our handsets utilize clinical-grade technology that has been adapted for safe and effective at-home hair removal. 
You can do any body part 
(including your 
Face
 and 
Brazilian
)
 in just minutes, all from the comfort of your own home... and the best part is, there's absolutely no hidden costs - no need for replacements or refills, ever!
Two flash modes: Single flash and continuous flash to accommodate different body parts.

Five power levels: Choose a convenient setting suitable for your skin type.


Gain without pain: IPL Laser Hair Removal Handset offers a gentle experience providing pain-free treatment.

Advanced IPL technology: This technology was originally used in professional beauty salons and now brought to the comfort of your own home.
Continuous saving: It costs less than one salon laser treatment of just one body part and will last you for up to 10 years giving the same results!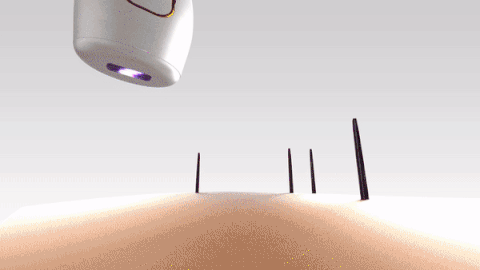 Frequently Asked Questions
---
Is It Safe?
Yes, it is 100% safe! There have been numerous clinical studies conducted that demonstrate the safety and effectiveness of Velour Skin for hair removal. Due to this fact, it has become an extremely popular option for safe and effective hair removal at home and in clinics.
Does It Hurt?
No! One of the biggest advantages of Velour Skin over other forms of hair removal is that it is pain-free. The feeling is mostly described as a warm sensation on the skin.
How To Use It?
1. Ensure you have shaved the area you are going to be zapping.
2. Plug the handset into power, the power button will flash green on the rear of the handset. Press once quickly to turn on.
3. Press the power button again to increase intensity (up to level 5). Always start on level 1 to test your sensitivity.
4. Place the device head flat against the skin and press the big button on the front to zap.
5. Zap once and move around the area.
6. Repeat 1 x per week, for 12 weeks for best results
Specifications:
Item Type: Epilator
Use: Bikini, Face,Body, Underarm
Material: Plastic
Size: Medium
Power Type: Rechargeable
Plug: US Plug
Color: Rose Gold, White
Quantity:1Set
Operating Temperature Range:5-30 Degrees
Wave Length:470nm- 1100nm
Focus Size: Approx. 33x10mm
Lamp Tube: Xenon Quartz Tube
Level:5 Level
Package includes:
1 X IPL machine

1 X Power adapter

1 X Manual
Portable IPL Laser Hair Removal Handset
Payment & Security
Your payment information is processed securely. We do not store credit card details nor have access to your credit card information.