Description
The Pure Taste Alkalizing Water Bottle increases the molecular hydrogen levels of regular drinking water; in other words, it generates pure hydrogen-rich water. Molecular hydrogen is known to provide more energy, deliver powerful antioxidants, and reduce muscle fatigue and inflammation from exercise, which is why it is becoming more popular among athletes and those with chronic illnesses.
#1 Portable Water Ionizer
Did You Know... Hydrogen-rich Ionized water is known to provide more energy, increase antioxidants levels, reduce inflammation, and so much more! Our borosilicate glass hydrogen generator water bottle with SPE PEM technology provides high-quality water at a fraction of the price anywhere else.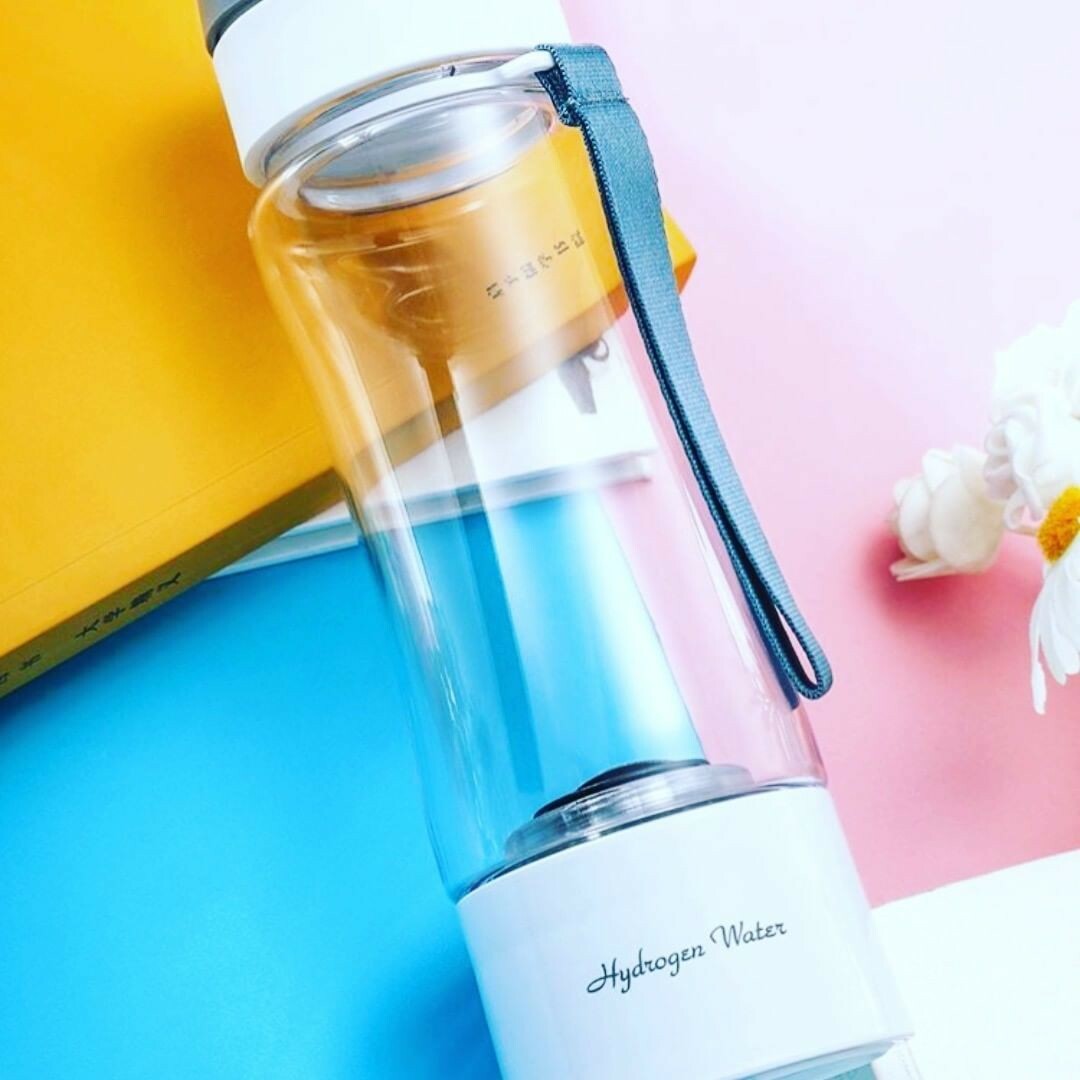 The Pure Taste Alkalizing Water Bottle is the leading hydrogen-generating water bottle, using SPE/PEM electrolysis, to infuse up to 4000ppb of pure molecular hydrogen, while expelling all residual waste gas (e.g. chlorine and ozone).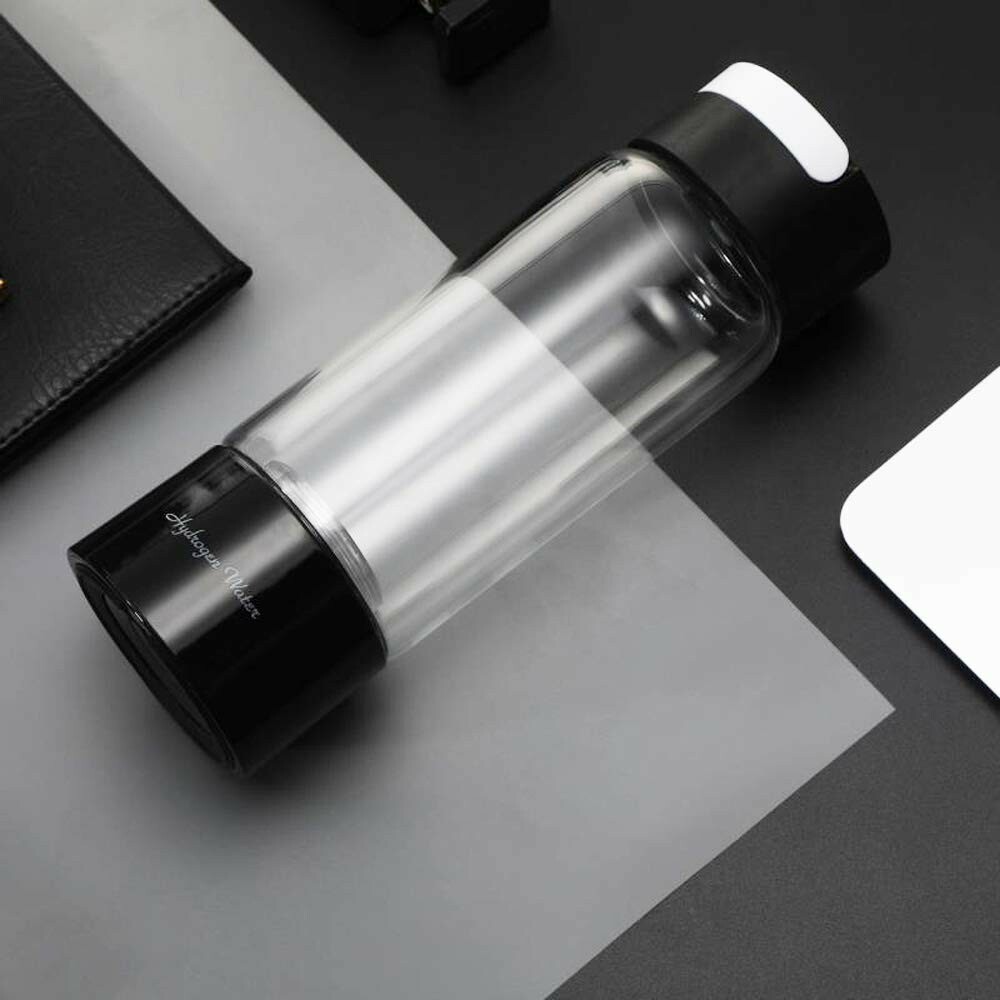 Hydrogen water absorbs into your body easily to boost your metabolism and increase the body's microcirculation. Molecular hydrogen is the world's most powerful antioxidant.
JOIN THE EXPERIENCE
You might have heard about the benefits of hydrogen water on 'The Joe Rogan Experience 'Episode #1069, 'The Ben Greenfield Fitness Podcast' – Tyler LeBaron Episode, Dave Asprey's 'Bulletproof Radio' Episode #482, or maybe you have never heard about it at all.  Either way, these H2 generators will change the way you view your water and overall health.
Benefits for drinking hydrogen-rich water
According to 500 scientific studies since 2007, it has been revealed that molecular hydrogen has great therapeutic potential to treat more than 150 diseases. As it enters our body, it instantly starts to recover the tissues and organs at a cellular level.
Key Health Benefits:
Remove harmful free radicals from your body
Improve cellular health and protection
Enhance better nutrient absorption in the body
Better hydration for your body
Increase blood circulation
Helps to lower saturated fat levels
Reduce aging to give healthy-looking skin
Improves muscle-tissue functions & joints mobility
Reduce constipation problems
Aids in lowering cholesterol levels
Detoxifies your body
Faster recovery from physical workout
Improves quality of life for cancer patients undergoing medical treatment.
This bottle 
is the leading hydrogen-generating water bottle, using SPE/PEM through electrolysis, to infuse up to 900ppb ~ 3000ppb of pure molecular hydrogen.
CHLORINE & OZONE FREE
Chlorine and ozone gases are expelled out of the exhaust vent, leaving you with only pure molecular hydrogen water.
Hydrogen water is simply pure water with extra hydrogen molecules added to it.  Why add hydrogen molecules? The benefits are too long to list (See our website page for the full list of benefits with medical and clinical studies). It has been proven to 
increase athletic performance, decrease inflammation, lowers cholesterol and blood sugar, protect organs, eases allergies, and prevents and protects against free radical oxidative stress which is the main source of many illnesses
.
You can buy the super expensive hydrogen water pouches and pills on the market right now (around $60 per month), thousands of dollars for a machine to hook up into your home, or, you can have this high-quality portable generator, with the latest technology (SPE/PEM Tech) and generate your own hydrogen water for years at a fraction of the price of all the other options.  Our generators are carefully tested to ensure they are producing the highest levels of hydrogen, and are equipped with the latest technology to ensure it is disposing of all ozone and chlorine molecules.
Our bottles are made for you in mind, and portable, so you can take them to work, to the gym, on run/walks, or just to keep them in any room of your home.

FREQUENTLY ASKED QUESTIONS
ARE THERE REALLY BENEFITS TO DRINKING HYDROGEN WATER?
There have been more than 1000 published studies conducted by scientists from around the world, on the benefits of molecular hydrogen, while Japan has been at the forefront of advocating hydrogen-rich water since 2007. Scientists found that molecular hydrogen acts as a powerful antioxidant increases energy levels, and reduces inflammation from exercise.
HOW DOES THE PURE TASTE ALKALIZING WATER BOTTLE WORK?

All our bottles use Solid Polymer Electrolyte (SPE) and Proton Exchange Membrane (PEM) electrolysis to produce pure molecular hydrogen at concentrations up to
900ppb ~ 3000ppb
. 
WHAT HAPPENS TO THE LEFTOVER OXYGEN AND CHLORINE?

All oxygen and chlorine gases are expelled via the dual-chamber exhaust vent, so only pure molecular hydrogen gets infused into your drinking water.
HOW DO I CLEAN MY PURE TASTE ALKALIZING WATER BOTTLE?

Pour white vinegar onto the titanium plates (located on the center of the base) so that the plate's fully submerged. Let white vinegar sit for 30 minutes, then rinse by running water onto the plates. Do this 2x per month for best results.
 

Do not submerge the base underwater, run the base through the dishwasher, or clean the base with a brush.
WHICH TYPE OF WATER SHOULD I USE?

Thanks to the dual-chamber base, you can use any type of drinking water.
WHAT TEMPERATURE WATER SHOULD I USE?

We recommend using warm to cold water. Do not pour scalding hot water into the bottle, as it may cause damage.
HOW MANY CYCLES CAN I RUN UNDER ONE FULL CHARGE?

Your Pure Taste Alkalizing Water Bottle will be able to generate hydrogen water up to 20 times under one full charge and takes 2-3 hours to fully charge
Features

380ml water is a perfect capacity for drinking every time
DuPont N117 membrane with the latest SPE technology, produce water with a much higher concentration than other devices in the market. 
Electrolysis plates are made of Titanium with multi-layers platinum coating. With the help of unique patent technology, electrolysis plates have more than 500 holes on them, which contributes to more hydrogen.
High borosilicate glass bottle, healthy & safe
Three working modes, 3 minutes & 10 minutes & cleaning mode.
Self-cleaning Mode (also called ozone mode), helps to remove the water scale and prolong device life. Cleaning water can be used for disinfection. (water from this mode can not be drunk)
Exhaust-gas design, no Ozone & Oxygen & Hydrogen peroxide, reduce residue chlorine
Hydrogen max up to 4000 ppb ORP max up to -500mV after running the device multiple times in a row.
1800mAh lithium battery, the device can process water about 20 times at 3 minutes mode
Use exclusive technology of hydrogen dissolve technology, hydrogen can be stored in the water for a long time
No limit of source water, even distilled water and purified water can be used.
Equipped with a simple hydrogen inhalation kit, easy to inhale hydrogen anytime & anywhere
The device can connect with PET bottles, drinking hydrogen water anywhere and anytime.
High hydrogen concentration Run 3 minutes mode 1 time : 1000-1600ppb
Run 10 minutes mode 1 time : 1800-2800ppb
Run 10-minute mode 2 times: 4000ppb ~ 4000ppb Important notice, don't run 10-minute mode in a row more than 2 times, this helps to protect the device, prolong battery life and avoid water leakage problem due to big pressure inside.
Specification Model: Q10 Bottle
Capacity : 380ml
Dimension: φ=70mm, H=210mm
Bottle body material: High borosilicate glass
Electrode material: Titanium with Platinum Coating
Membrane: DuPont N117 PEM with SPE technology
ORP value : -200mv to -600mv
Working modes : 3 minutes & 10 minutes & cleaning mode
Battery capacity: 1800mAh lithium battery.
Package Included
1 * Hydrogen Rich Water Generator
1 * USB Charging cable (No Charger)
1 * User Manual
1 * Small Transfer Adapter
Specifications
Use

:

Pitcher

Certification

:

CE

Water treatment machine Type

:

Water Pitcher

Function

:

Direct Drink

Type

:

Ionizer

Purifying Position

:

Terminal Purification

Water Quality Requirements

:

High-Quality Drinking Water

Latest SPE PEM Technology

:

SPE Technology & PEM membrane

Electrode Materials

:

SPE Korea Titanium with Platinum coating

Hydrogen Membrane

:

DUPONT N117 ion PEM membrane

Best Water Temperature

:

2~60℃

Two Working Modes

:

3 minutes 10 minutes

Large Battery Capacity

:

3.7V / 1800mAh

Bottle Body

:

Food grade high borosilicate glass

Mineral Water Bottle Adapter

:

YES

Hydrogen Inhalation Tube

:

YES

Separate H2 from O3 Chlorine

:

YES

Water Quality Requirement

:

Work with any kind of drinkable water

Antioxidant ORP

:

-200mV ~ -600mV

Hydrogen Concentration

:

900ppb ~ 3000ppb
Payment & Security
Your payment information is processed securely. We do not store credit card details nor have access to your credit card information.