Description
Say goodbye to bumps, cuts, and irritation. Get a stubble-free shave in just a few minutes with our Professional 5 in 1 Electric Razor Head Face & Body Shaver. Perfectly designed for those who have sensitive skin. Cut through coarse and curly hair with ease.
Shave Faster Than Ever: Flexible-blade system effortlessly glides over your skin quickly removing hairs.
No Bumps And No Cuts: Unlike standard razors, our unique blades will not result in razor bumps or cuts.

Shave Anywhere With No Mess: Designed with a blade that collects your cut hairs, so you can shave anywhere.
Need a shaver to shave your head? a trimmer to trim your sideburn or beard? a scissor to get rid of the pesky ear & nose hair? an electric face washer to deep clean & massage your face?
Ask no more. Save yourself some ridiculous $$$ and time because the Professional 5 in 1 Electric Razor Head Face & Body Shaver is
the last grooming kit you'll ever need that works
.
CLOSE AND CLEAN SHAVE IN 90 SECONDS
Say goodbye to your barber! You can always get the same close shave anytime, anywhere
YOUR MORNING ROUTINE

JUST GOT FASTER
Get the closest shave of your life, without requiring multiple passes over the skin! Our five blade technology allows up to 50% more hairs cut in a single stroke.
NOT YOUR AVERAGE RAZOR
Truly an all-in-one solution for any person who shaves and enjoys nourishing their skin, regardless of hair or skin types. Not only designed to shave the head, our Professional 5 in 1 Electric Razor Head Face & Body Shaver creates an upgraded grooming experience for your entire body.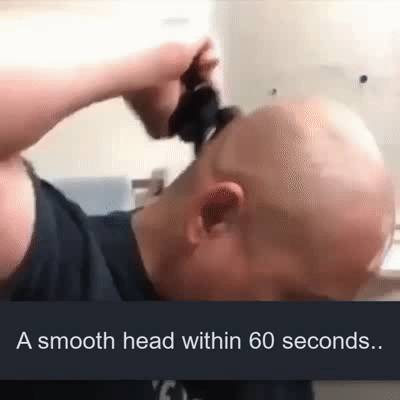 BETTER THAN RAZORS
BLADES LAST 50+ SHAVES Our durable blades allow over 50 shaves before needing to be replaced.
ABILITY TO SHAVE DRY Comfortable and close shaves without needing any other products.
NO INGROWN HAIRS Razors cut beneath the skin causing ingrown hairs. This cuts at the surface.
EASY TO HOLD & USE Ergonomic design fits in the palm of your hand. Safe for shaky hands to use!
Innovative design for maximum comfort
A reinvented and remastered design with the use of best in class materials to offer unconventional comfort during shaving. Professional 5 in 1 Electric Razor Head Face & Body Shaver is equipped with our signature patented innovative ergonomic handle which offers easy grip and perfectly fits your hand to ensure comfortable and intuitive shaving of your head and face. Thanks to the unique design the shaver easily gets to all tough to reach areas ensuring impeccable results.
WHAT'S IN THE KIT?
High performance five-head rotary blade combines our flex and precision technology that comfortably follows the contours of your head, face, and body. Allowing for irritation and stubble free shaves.
Professional performance
Discover the fourth generation of Skull Shaver products with improved design and unbeatable performance. The new Professional 5 in 1 Electric Razor Head Face & Body Shaver is made of high quality materials using technically advanced equipment and production facilities. The shaver comes with our all new PRO blade design: a radical new design from Skull Shaver that promises the best performance and longevity yet.

Package Content:
1 x Electric shaver(with protective cover) 1 x USB CABLE 1 x Nose and ear trimmer head(with protective cover) 1 x Precision trimmer head 1 x Soft sponge brush 1 x Facial cleaning brush(with protective cover) 3 x Limit comb(3,5,7mm) 1 x Cleaning brush

Specification:
Material: ABS
Battery: 600mA
Charging time: 5 hours
Using time: 45 minutes
Waterproof level: IPX7
Size: 9*6*8cm(L*W*H)
Color: Black + Golden
Weight: 310g
Power Type: Rechargeable
Certification: CE
Feature: Five Blade
With trimming device: Yes
Material: ABS
Charging Time: 5h
Usage Time: 45Mins
Washing Mode: Whole body washing
Item Type: Electric Shaver
Voltage: Mainland(220V)
Model Number: RC317JQ-EU
Use: Face
Size: 5 in 1 Men shaver
Good
Bought for someone as a Christmas present. Assuming it is Good and 5 stars.
Great thing. Now I shave my head without help
Horrible dont cut at all tried several ways I'm a bald head
Arrived really fast, really quality product recommends
Very bin finished. Don't try it yet.
Payment & Security
Your payment information is processed securely. We do not store credit card details nor have access to your credit card information.