Description
Application:
Doors, Window, Ceilings, Accent Walls, Baseboards, Chair Rail.
A paint edging brush greatly reduces the time spent applying masking tape
A paint edger brush paints 10-20 times faster than a sash brush
Cuts in 5-8 feet per load
Cuts in a band that is 4" wide
Reduces the number of painters needed on a job by 50% or more
The paintbrush pays for itself in labor savings on the first day on the job.
Ensures that even painters with little or no experience can paint consistent, straight edges with no paint on the trim
Just like accubrush, this paint edger will save you lots of time and effort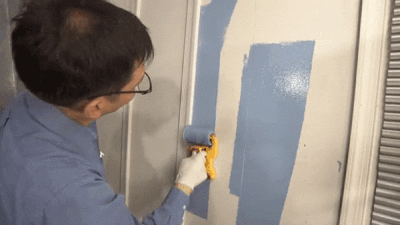 Specification:
Brush material: Cotton thread

Size: 260*127*50mm/10.2*5.00*1.97"
Package includes:
1 X Paint Edger Roller Brush
Hoped it would be a time saver
I should have rinsed the roller because it kept leaving pieces of lint in my painted wall. Worked fairly well along my baseboards but I was hoping it would save time on my ceilings but it just left metal marks on the wall and I ended up cutting in the paint with a brush. Practice makes perfect but I just didn't have the patience to work through it.
Payment & Security
Your payment information is processed securely. We do not store credit card details nor have access to your credit card information.