Description
Our Microcurrent Anti-Aging Face Massage Roller is a unique tool used to tighten and shape areas of the face and body. Enhancing the skin's elasticity and cell metabolism with comfortable high-frequency microcurrent vibrations.
Health Benefits
Our Anti-Aging Face Massage Roller assists with good lymphatic drainage and meridian unclogging by applying high efficient modulated microcurrent pulses on the skin. Lymphatic drainage is known for making cellulite less visible.
Collagen Regenerations
Our Anti-Aging Face Massage Roller emits a wavelength of blue light, which can stimulate photodynamic changes of porphyrins to the maximum effect which will kill acne. In addition, the blue light technology can also inhibit the secretion of exuberant sebaceous glands, balancing skin oil secretion. 
Microcurrent Massage Vibration
Our Anti-Aging Face Massage Roller has five modes of microcurrent intensity. During each session, this massage roller will release gentle microcurrents to stimulate ATP production which energizes your facial muscles. This will improve facial contour, facial tone, reduces fine lines and wrinkles.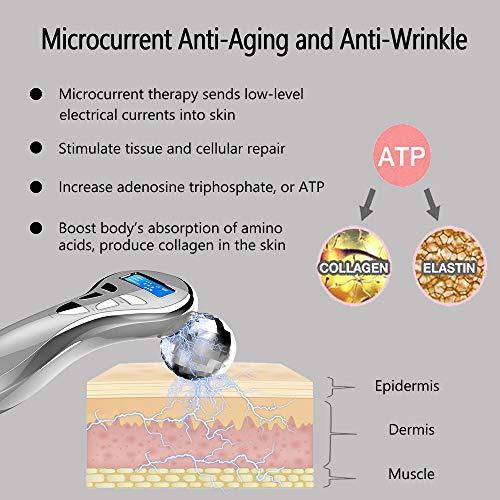 Specifications
Lifting Power Source: Rechargeable Battery
Material: Plastic
Type: Face Slimming Massager
Charging time: 6-7 hours
Using time: Approx.90 minutes
Battery type: 2200mAh polymer lithium battery
Voltage: 3.7V
Power: 1W Charging time: 5~6 hours
Package Includes
1 x 4D Anti-Aging Face Massage Roller | Skin Lifting Anti-Aging Microcurrent Machine
1 x USB Cable
1 x Portable cloth bag
1 x User manual
4D Microcurrent Roller
Malfunction and don't like how the roll balls pull skin as I roll it along. I need to return it and get refund. Thanks!
Super purchase delivery instant 8 days after payment thank you very much. I recommend!!!!!!
Super product .... so quickly did not receive any goods in 8 days after payment.... Super thank you very much very satisfied I recommend
4D Microcurrent Anti-Aging Skin Lifting Face Massage Roller
4D Microcurrent Anti-Aging Skin Lifting Face Massage Roller
Payment & Security
Your payment information is processed securely. We do not store credit card details nor have access to your credit card information.