Description
"I Recently Discovered How To Heat Any Small Space In My House In Under 5-Minutes, WITHOUT Using My Home's Costly Heating System"
A startup is turning this $120 billion dollar heating industry on its head. The 500W Mini Portable Electric Heater, a fan heater that is strong but not too loud, and something tiny and portable so that it can be moved from room to room. The mini electric wall heater is a low-cost and low-maintenance Space Heater that is suitable for any home or office. 
Compared to the traditional space heater it's cheaper, more efficient, smaller, easy to carry over to the space you need it most - and it warms you just the same!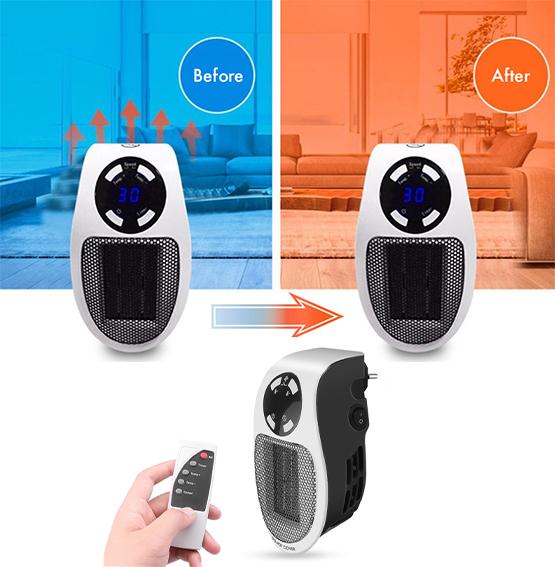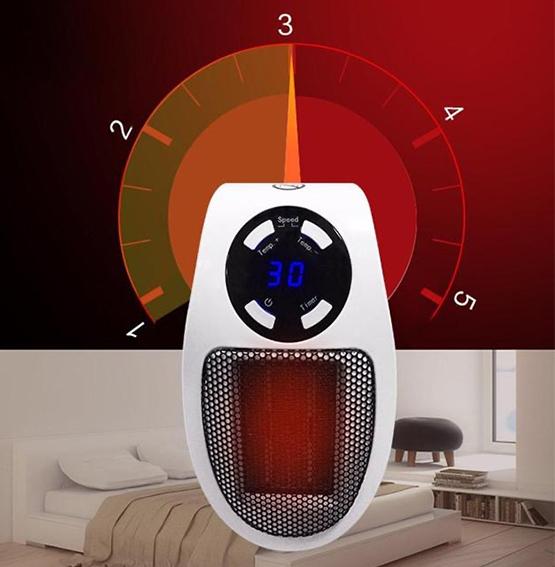 7 Product Features of 500W Mini Portable Electric Heater:

12 Hours Programmable Timer - This space heater is designed with a timer feature that ranges from 1 to 12 hours, allowing you to conveniently set your timeframe to prevent overheating the area.
Temperature (15~32°) - By pushing the "Temp+/-" buttons, you may adjust the temperature to your preference.
Powered By US Wall Socket - The 500W Mini Portable Electric Heater can be plugged into any standard electrical socket without taking up any more space.
Low Power Usage - Using less electricity means saving money and energy while also preventing the circuit breaker from tripping.
Portable & Compact Size - Small in size, low in weight, and easy to use. Unlike other heaters that need lengthy installation instructions.
User-Friendly - Using the remote control, you may operate it quickly and conveniently.
Operate Silently - In order to guarantee that you have a good night's sleep, it works as quietly as possible.
Frequently Asked Question
1: How Safe is the 500W Mini Portable Electric Heater? 
When the internal device temperature exceeds 122F, the gadget immediately cools to 104F. 500W Mini Portable Electric Heater will automatically switch off if the temperature exceeds 122F three times in a row.
2: What if the Heater Falls Over?
 If the gadget is knocked over, it will immediately cease heating, blow out room temperature air for 30 seconds to cool the unit, and turn off the power.
3: How Do I Reset My Heater If It Tips Over or Overheats? 
Step 1: Remove any obstructions or situations that may have contributed to the device tipping over or overheating. Step 2: Deactivate the heater by switching it to the OFF position. Step 3: Unplug the heater from the wall outlet and allow it to cool for 5-10 minutes. Step 4: Reconnect the heater and re-start it. If the heater continues to fail, you may have a faulty unit; do not operate it further; contact customer support to arrange for an emergency replacement. 
4: How Many Amps and Watts Does This Heater Use?
500W Only

5: How Large of an Area Does This Heater Cover?  
500W Mini Portable Electric Heater can heat rooms to 350 square feet.

6: Will This Heater Raise My Utility Bill? 

No, this unit is deemed to be efficient in terms of energy use. The pace at which your utilities increase is dependent on how frequently you use this heater. On its maximum setting of 500W, the heater consumes a lesser amount of electricity than a typical hair blow dryer. If your electricity company charges an average of ten cents per kilowatt-hour, then each hour the unit is functioning will cost around twelve cents. Please contact your local utility company for further information.

7: Is This Heater Safe Around Children and Pets?
Yes, as long as the right level of caution and care is exercised when operating this heater, it is completely safe. This includes exercising extra care while using a heater around children or pets. As a general rule, never leave an unattended heater on. Heaters are used to generate heat, and their surfaces may be quite hot to the touch.

8: Is it Appropriate to Connect The Heater to a Timer Or a Power Strip?
We do not advocate using anything other than a wall outlet to power your heaters. This is because the quantity of electricity consumed by heaters may exceed the capacity of the timer or power strip.
9: Is an Extension Cord Compatible With This Heater?
Never use an extension cable or a relocatable power tap (outlet/power strip) with this product. Ensure that heaters are plugged directly into a power outlet/receptacle. Other electrical equipment should not be plugged into the same outlet/receptacle as your heater.
10: Can I Use An Adapter If I Do Not Have Polarized Plugs?
We do not advise plugging heaters into adapters. On correct electrical usage, a specialist should be contacted.
What's In The Box?

1*

 

500W Mini Portable Electric Heater

1* User Manual
1* Remote Control
I like it, it is portable and is warm. Although, it only reaches a short distance, it does the job. Just started using it today.
Product received. Useful if you are there to turn it back on and reset every 12 hours
This unit will automatically turn on and off as it reaches the temperature you set for the unit. It produces just enough heat to satisfy my need.
This is a powerful little heater, you would not want to put your hand directly in front of it for very long. Definitely enough to heat a very small space like a car, or heat up a small room which isn't quite warm enough.
Payment & Security
Your payment information is processed securely. We do not store credit card details nor have access to your credit card information.